In June, SMG visited Associated Weavers headquarters in Halifax for the official launch of their new LVT product range.
The carpet brand Invictus was introduced in 2015 and was an instant success.  It was marketed as beautiful and 'invincible'.  Therefore, when AW decided to launch an LVT into the market they decided Invictus was the branding to use.
Invictus means invincible and that's the way they plan to market the products – using a 'Highlander' as the perfect adversary to the Mauri for Invictus carpet.
Every facet of this launch was perfection from the bespoke new showrooms, to the beautiful product choice, to the interactive display stand, to the 'second to none' AW marketing.  This product range has been so well thought through – it offers something for everyone, every style of home and every budget.
The unique branding stands out from the crowd and draws customers to the products and unitary.  The display stand is interactive allowing customers to choose the product they like and see how it would look in any type of room set.  It also features sampling of the co-ordinating Invictus carpeting to allow retailers to link sell for all areas of the home.  Associated Weavers are aiming to make this a 'one stop shop' for any customer.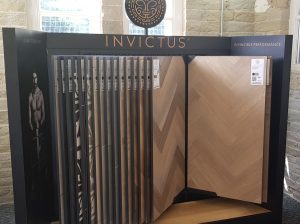 The LVT ranges are:
Optimus Dryback – 0.3mm, 12 SKU's
Maximus Dryback – 0.55mm, 52 SKU's
Maximus Click – 0.55mm, 20 SKU's with matching Scotia
Maximus Designer Parquet – in three options 228 x 1524mm size
www.invictus.co.uk