The Charm Collection is the latest addition to the StainSafe® range from Balta carpets, bringing a fine 1/10th gauge twist pile for carpets that are wonderfully luxurious and perfect for family homes.
Making Charm's exquisite texture available in three pile weights – 900g/m2 Country Charm, 1,400g/m2 Endless Charm and 1,975g/m2 Classic Charm – Balta Carpets has married the precise twist pile to its two-ply StainSafe X-Tron® high-performance PP, providing the carpet with the resilience needed for family homes.
With colours from a palette of 14 modern pastel tones in charcoal through hints of blush pink and clay to ivory; each Charm carpet can be chosen according to budget, or even selected for rooms based on use, keeping the same rich and luxurious look throughout.
"More often than not, consumers may well opt for the same weight carpet throughout their home, regardless of whether they are putting a new carpet in a living room as well as a spare bedroom," says Geert Vanden Bossche, marketing director, Balta Group. "However, as homeowners are increasingly on the hunt for better value the multi-weight approach of the Charm collection is a real advantage.
"With a largely shared colourbank, weight can be chosen according to room use; so the luxury and resilience of Classic Charm in living spaces and hallways, Endless Charm in master suites and Country Charm for spare bedrooms. It's a great way for retailers to build in extra value without compromising on quality which could lead to poor performance in busy family spaces."
Available in four and five-metre widths, the bleach-cleanable Charm collection is backed by Balta's impressive StainSafe warranties: Classic Charm receives a 20-year stain resistant warranty, Endless Charm is given a 15-year StainSafe warranty and Country Charm has a 10-year promise. The collection is presented on its own lectern and is now available directly from Balta carpets.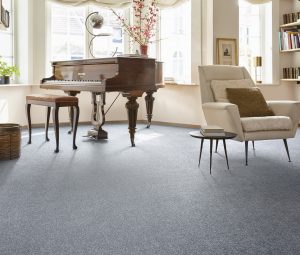 For further information, contact Balta on +32 56 62 22 11 or broadloom@baltagroup.com